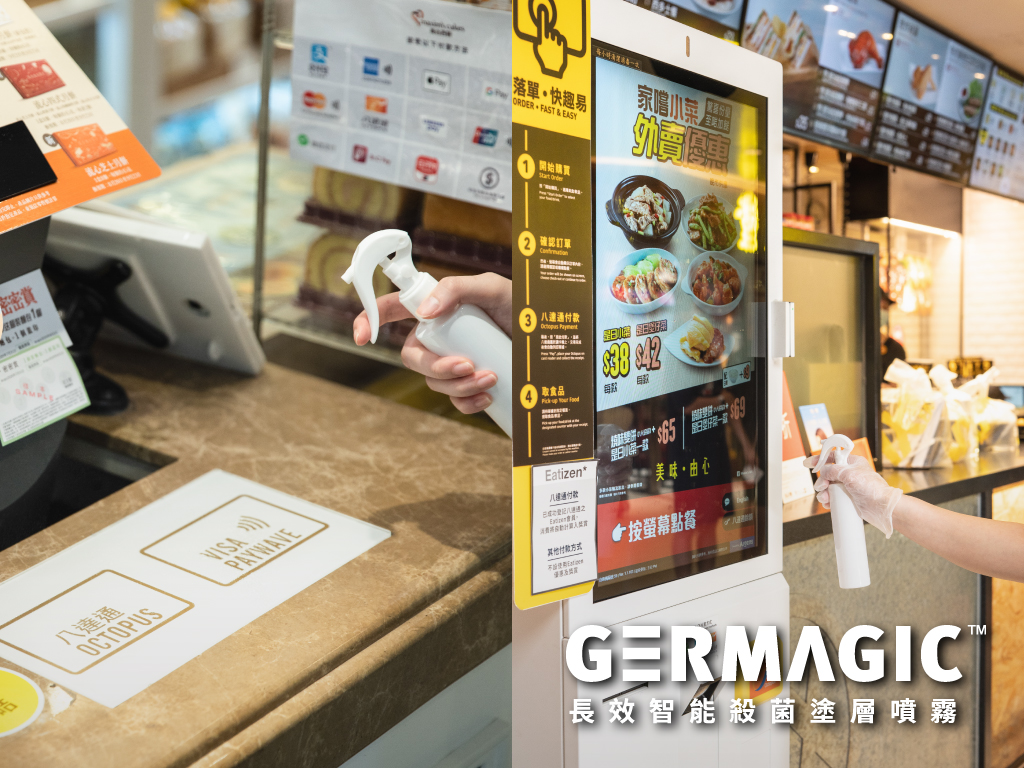 Quick Service Restaurants, Chinese Restaurants, International Restaurants, Maxim's Cakes & arome Apply GERMAGIC Long-Term Smart Disinfection Coating
As the first F&B group to apply GERMAGIC Long-term Smart Disinfection Coating, Maxim's Group has gradually applied the coating to all quick service restaurants (including MX, can.teen, Food2 and Hong Kong Day), along with Chinese restaurants, m.a.x. concepts, Maxim's Cakes and arome outlets, in response to the development of COVID-19 situation in Hong Kong.
Specifically Cover Frequently Used Facilities for Safer Takeaway Option
The Coating covers frequently used facilities at Maxim's Cakes & arome, including Octopus card readers and cashier areas. In addition, to give customers greater peace of mind, it will also be applied onto the self-service ordering machines, Octopus card readers, cash registers and order pagers at quick service restaurants, and cash registers and takeaway collection areas at m.a.x. concepts outlets, as well as partitions at Chinese restaurants.
About GERMAGIC Long-term Smart Disinfection Coating:
99.9% effective elimination of over 100 highly infectious viruses & bacteria (including SARS-CoV-2)
30 days long-term disinfection
Nontoxic and safe for human body as well as the environment
Developed by HKUST-CIL Joint Laboratory of Innovative Environmental Health Technologies
Appreciation to Unsung Heroes
The pandemic is still spreading. Luckily, we have our healthcare workers, who make public health their top priority as they continue to fight for us in the front line. Laboratory staff also conduct tests day and night, hoping to minimize the risk of community transmission.
To show our appreciation, Maxim's Group recently shared 1,000 boxes of arome cookies through "Give2Asia" with healthcare workers at public hospitals who assist in the testing of new cases. Meanwhile, Genki Sushi gave away 5,000 "Sushi For You" vouchers to the 'dirty teams' across six public hospitals and shared supreme sushi.
Apart from healthcare workers, some community organizations and members of the public have also stepped forward and demonstrated a caring spirit by lending their help in hand-sewing cloth face masks or distributing surgical masks and anti-epidemic protection gears to those in need. We were happy to share hearty cookies with the following organizations to show our support and to thank them for their devoted efforts.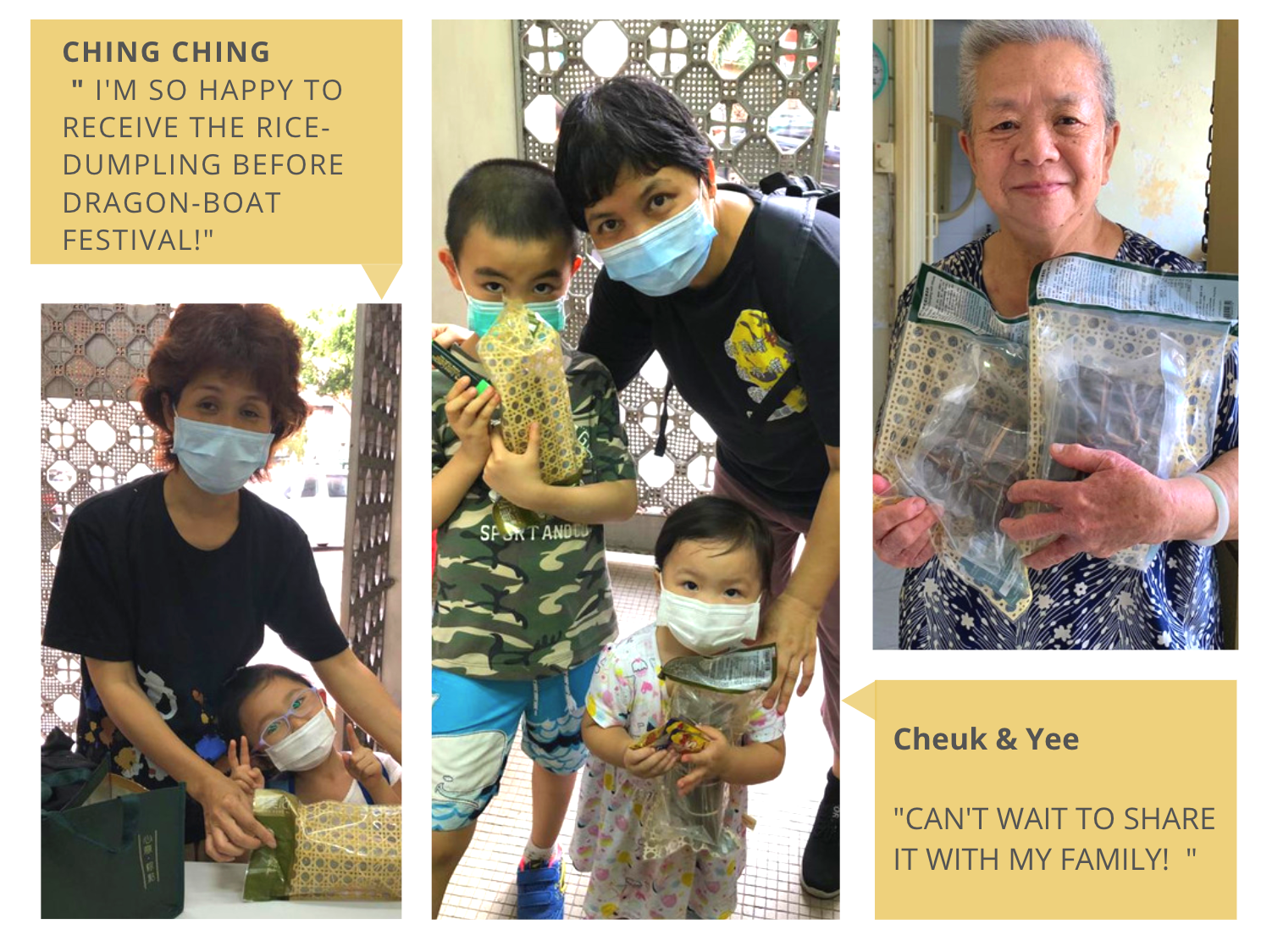 Festive Sharing Amid COVID-19
Over the past few months, vulnerable families and the elderly have been worst hit by the fallout of the pandemic. A large part of income is spent on essential expenses such as epidemic prevention materials and rent. During these trying times, buying a single rice dumping to celebrate the festival may not even be possible. Thus, Maxim's Group partnered with charitable organizations to donate more than 5,000 rice dumplings to affected families and the elderly.
Figo Tang, Project Coordinator of the People Service Centre, recalls that a chronic patient who had spent her entire income on medical expenses, was delighted to receive the rice dumpling and taste the festive flavours. Ching Ching, a five years old girl, had the rare chance to try rice dumplings. To her, the act of being able to share a rice dumpling with her family was one that felt highly fulfilling.
With Mid-autumn Festival fast approaching, the Group seeks to share joy with those around us by donating mooncakes and continuing our longstanding efforts in bringing festive delight.
If you do not want to receive this email in the future, click here to unsubscribe.
"美心"及上述提及美心其他食肆的名稱、標記或註冊商標, 皆為美心食品有限公司所有。 美心食品有限公司為一間在香港營運之公司。

"Maxim's" and any name, logo or trademark of Maxim's restaurants referred to in the above text belong to Maxim's Caterers Limited, a company operating in Hong Kong.
如需要詳盡資料或有任何查詢,請聯絡: 美心食品有限公司公共及顧客關係部
電話:(852) 2101-1300 傳真:(852) 2216-7883 電郵:pr@maxims.com.hk